Helps you treat yourself with OTC meds anytime anywhere
try it now!
Who are we?
Overwhelmed with the wide range of Over the Counter (OTC) medications available for purchase? Not knowing what to select? Can it be risky if I choose the wrong medication?

PharmAssist is an advanced intuitive digital pharmacist counselling platform, that interacts with patients wishing to treat themselves for minor ailments with OTC medications.

Providing personal on-demand assistance 24/7 for online selecting & purchasing of OTCs.
What do we offer?
PharmAssist helps you treat yourself at your own convenience wherever you are, directing you to the most suitable OTC product.
In today's world, where the notion of patient empowerment and self-treatment becomes key and the use of online purchasing of OTC medications and other well-being products is constantly growing there is a need for "pharm-assist". The use of e-commerce platforms presents the users and the providers with various challenges, most importantly, the lack of available human counseling points as well as the abundant variety of similar, confusing, and sometimes scattered, difficult-to-locate products. PharmAssist is pivotally situated to address these concerns as it provides an accurate, quick, simple & trusted, on-demand source of guidance and support.

PharmAssist is based on the proprietary knowledge of community clinical pharmacy experts who have developed an advanced learning algorithm, using sophisticated BI processes and crowdsourcing elements to tailor your OTC needs.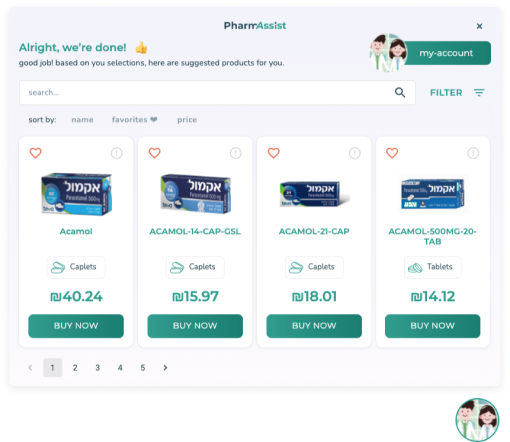 Address different symptoms
Receive personal information & guidance
Choose suitable dosage form
Select matching product(s) for your mild ailment
Order & pay for your OTC product(s)
Receive condition related tips and rank product effectiveness
Why use PharmAssist?
Patients are increasingly empowered and encouraged to treat their limiting conditions with OTC medications.
However, this is not, always, a straightforward process: the huge amount of information, the diversity and abundance of available OTC products, the shortage of adequate, accessible, reliable, non-commercialized or biased information as well as long waiting times can be frustrating. PharmAssist will help users deal with these challenges.

Select & purchase online avoid unnecessary waiting times
Fast & simple to use from your phone, tablet, computer
Make an informed decision: buy a suitable product for your symptoms or see a healthcare practitioner
Help others choose wisely – rank & vote
Reliable & accessible 24/7 online platform
How to use PharmAssist?
Present your symptoms

Answer short counselling questions

Register with PharmAssist (optional), manage your symptoms' history, rank purchased products

Choose & purchase safe and suitable products

Avoid biased and commercialized information

Easy & fast, counselling process, decreasing customer churn
Increased customer satisfaction and loyalty
Learning & mapping customers' behavior and needs. Using crowdsourcing and advanced BI
Optimizing inventory levels & manpower, improve product discovery, increased efficiency & profitability
Evidence based, innovative, dynamic and learning algorithm
How to use PharmAssist?
Contact us

Install PharmaAssist

Improve your business performance

Generate BI reports
Let PharmAssist help you
treat yourself
PharmAssist is based on proprietary knowledge of community clinical pharmacy experts who have developed an advanced counselling algorithm, using sophisticated BI processes and crowdsourcing elements to tailor your OTC needs.
Do you have any questions about PharmAssist?
What is the difference between OTC to prescription medication?
Rx-to-OTC switch refers to the transfer of proven prescription drugs (Rx) to nonprescription, OTC status. Rx-to-OTC switch is a rigorous scientifically evidence based and highly regulated process. This allows consumers to have access to a growing range of OTC medicines that were available only by prescription less than 40 years ago. Ten of thousands of OTC products are available worldwide. These contain more than 100 OTC active ingredients, numerous strengths and many different indications.
Why do I need to use PharmAssist? Isn't my knowledge for selecting OTC according to my symptoms not enough?
The name OTC medication may be misleading to the people. OTCs contain the same active ingredients as with prescription (Rx) medications. Thus, if OTCs are not used rationally or safely, they may not work and even harm patients. We believe that the adequate training and guidance is required for making safe and efficient decisions and PharmAssist is the right tool to accomplish this.
What are the benefits for my customers and my business when installing PharmAssist on my e-commerce platform?
PharmAssist improves the quality of your services you provide. It improves patient experience, loyalty and their satisfaction, reduces churn rates as well as maximizing your manpower. It allows you to control your inventory levels according to the behavior of your customers and the needs of your patients. It allows you to improve and predict customer behavior, customize your product discovery and visibility and increase the effectiveness of your business while mitigating the risk for your customers when selling OTC medications.
How long does it take to complete the counselling process?
The questioning process differs between conditions; however, the average counselling process will take between 2-3 minutes.
Can I trust the PharmAssist as a reliable, accurate and not biased source of information?
Yes. The algorithm was developed by experts in community and clinical pharmacy. The company was created by Professor Eyal Schwartzberg, a pharmacist with more than 20 years' experience. Eyal was formerly the Israel's state pharmacy and head of the pharmaceutical and enforcement divisions, he is also an active professor in two schools of pharmacy, Ben Gurion University and Long Island University, Brooklynn NY. The algorithm uses proprietary knowledge as well as evidence-based information which is integrated into a sophisticated business intelligence model The algorithm is designed to fit you with the most suitable products for your condition.
Is it safe to use PharmAssist?
Yes, PharmAssist responds to your symptoms by using a short but precise counselling process it provides you with important information about your condition while excluding serious symptoms, allergies and other medical conditions that need to be referred to a healthcare practitioner; physicians or pharmacists. Thus PharmAssist, empowers your autonomy and assists you in making a quicker, safer and informed decision when looking to buy OTC medications.
Do I need a special IT specification to use PharmaAssist?
No. PharmAsssit is available from any digital platform at your own convenience: tablet, mobile phone or your personal computer.
Do I need to complete the entire counselling stages in Pharmassist in order to purchase an OTC?
No, you can close or minimize PharmAssist at any time and go directly to purchase OTC medication of your choice; however, this will be a non-guided process, which can be more time consuming and may result in a less suitable product or even a dangerous one. Why not invest in your health and complete the short questioning process?
Is it private?
PharmAssist is totally private to its members and we fully comply with your local privacy regulations. When you register with PharmAssist it allows you to increase your autonomy while protecting your personal data. Your personal data is completely secured, however you can benefit and learn from other customers' experience and product ratings. In any time, you may terminate your registration and ask to be removed from our database. We will only contact you upon your consent and will never give your personal data to any third party.